In addition to the Vietnam itinerary in 10 days and 7 days that we have introduced. Here are the best 14 day Vietnam itineraries from south to north. You will find the suitable 2 weeks in Vietnam for family, for couples and beloved friends through this article. Planning your trip across beautiful Vietnam is never easy as it is now.
With 14 days to explore, you can cover a good amount of attractions and experience some highlights the country has to offer. For a first time traveller, you can go to the Mekong Delta, Ho Chi Minh city, Hoi An, Hue, Halong Bay, Sapa, Ninh Binh, Hanoi,... for 14 days. These are the not-to-be missed destinations in Vietnam. If you are a beach lover, we recommend you add to your itinerary Phu Quoc beaches, Nha Trang beaches, Mui Ne beaches, Da Nang beaches… And if you are mountain lovers looking for a less tourist route, you should go to Ha Giang, Dong Van, Cao Bang, Ba Be, Bac Son, Mu Cang Chai, Nghia Lo, etc…
Check out the most favourite detailed 14-day itinerary below. We would like to give you details along with a travel frame, from which you can flexibly extend or reduce the duration spent in each location depending on your preferences.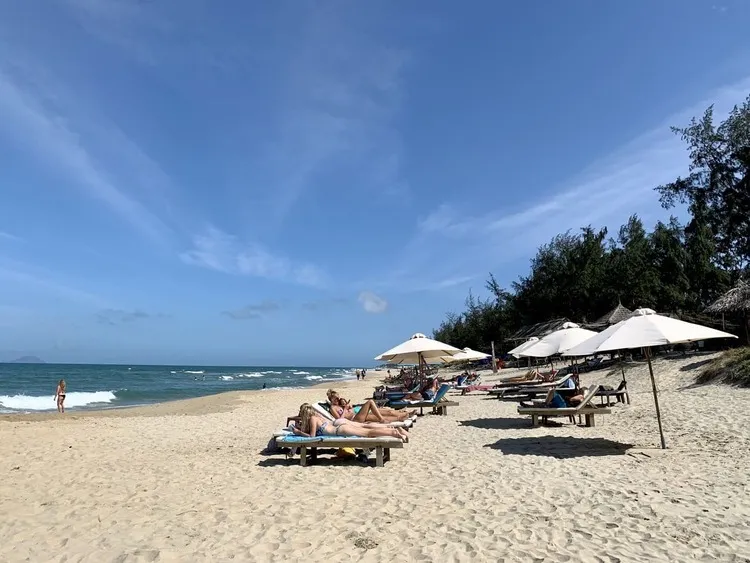 An Bang beach
You can start exploring Vietnam from Ho Chi Minh City, Hanoi even from Phu Quoc or Da Nang, anywhere there is an international airport on this S-shaped piece of land. However, here I suggest you explore Vietnam from south to north to see how the landscape changes with latitude. The culture of the regions also changes, you can even see the accents of the regions also change differently. The further you go to the North, the more clearly you will see why the capital of Vietnam is placed in Hanoi, the centre of the North. A journey starts with small steps.
So let's explore the 14-day Vietnam itinerary that you can't miss on your unforgettable journey.
Abbreviated Vietnam 14 day itinerary
Welcome to the vibrant tapestry of Ho Chi Minh City, a captivating blend of history and modernity. You can spend 1, 2 or more days in Ho Chi Minh city as it doesn't lack entertainment for you. However, within a 14-day tour in Vietnam, staying in Ho Chi Minh city for 2 days and 2 nights is quite enough to know about this city. Spend your first evening on a vespa tour, which can help you to discover the real life of the city that a car can not. Then the next day, start your full day city tour including your favourite attractions. Ho Chi Minh City is a place where the past meets the present, which will create an unforgettable journey of exploration and wonder for you.
Things to to in Ho Chi Minh city in your Vietnam itinerary 14 days North to South:
Vespa tour after dark
Explore the vibrant Ben Thanh Market and indulge in the city's street food scene
City tour to discover the bustling metropolis of Ho Chi Minh City.
Visit museums or relics: War Remnants Museum, the Cu Chi Tunnels, and the Reunification Palace, etc...
Visit impressive architecture: Notre-Dame Cathedral, Saigon Opera House, Bitexco, Keangnam Landmarks 81, etc…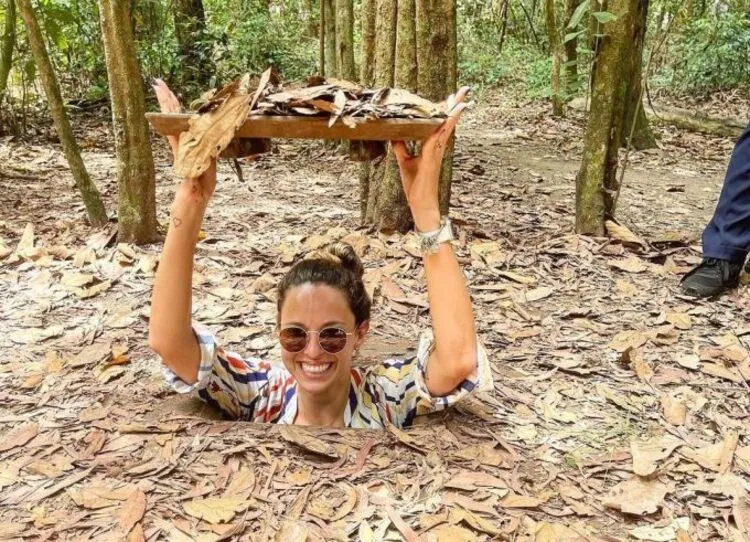 Try hiding in the maze of Cu Chi Tunnels
Moving to the Southwest of Ho Chi Minh city, you will step into the Mekong Delta, which looks like a giant rustic enchanting picture. The land is where you can explore the floating markets, meandering waterways, and timeless traditions. Cruise through rural villages nestled besides immense gardens, engage with warm-hearted locals, and learn from the age-old craftsman ships. Pedal through lush landscapes, savour authentic local cuisine, and witness colourful festivals. If you spend a day trip here, it is recommended to visit nearby locations such as Cai Be, Ben Tre, My Tho. In 2 days, you can further discover the land of Can Tho, An Giang, Chau Doc, Long Xuyen, Sa Dec, etc… End of the Mekong Delta excursion, you can get back to Ho Chi Minh city or Can Tho city to depart to the next destination.
Things to to in Mekong Delta in your Vietnam itinerary 14 days North to South:
Take a day trip to the Mekong Delta, known as the "Rice Bowl" of Vietnam.
Ride a sampan through the intricate network of rivers and canals
Visit orchards and fishing farms
Visit local floating markets, wet markets, and experience the delta's unique way of life
Stay overnight in a local homestay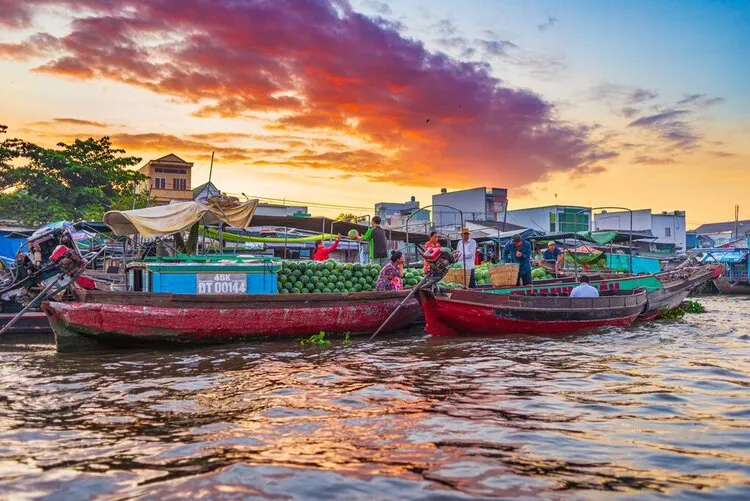 Nestled along Vietnam's central coast, Hoi An is a captivating blend of history and charm. I recommend a minimum of three days to see all Hoi An ancient town's beauty and its beaches. Its lantern-lit streets wind through ancient temples, colourful markets, and ornate bridges, painting a vivid portrait of the past trading port. You can immerse yourself in the aromas of Vietnamese cuisine before crafting your own lantern, and get your own clothes styled by the town's renowned tailoring services. As day turns to night, Hoi An's riverbanks and waterways come alive with a dreamlike luminance, revealing a destination that seamlessly weaves the past and present. With all it has to offer, Hoi An is promising a memorable stopover on your Vietnam trip.
Things to to in Hoi An in your 14-day Vietnam itinerary:
Wander through the charming streets of Hoi An old town and visit town's ancient temples
Shop for traditional textiles and handicrafts
Enjoy delicious local cuisine
Watch Hoi An Memory show
Explore the nearby My Son Sanctuary
Relax on An Bang Beach, Cua Dai beach, Ha My beach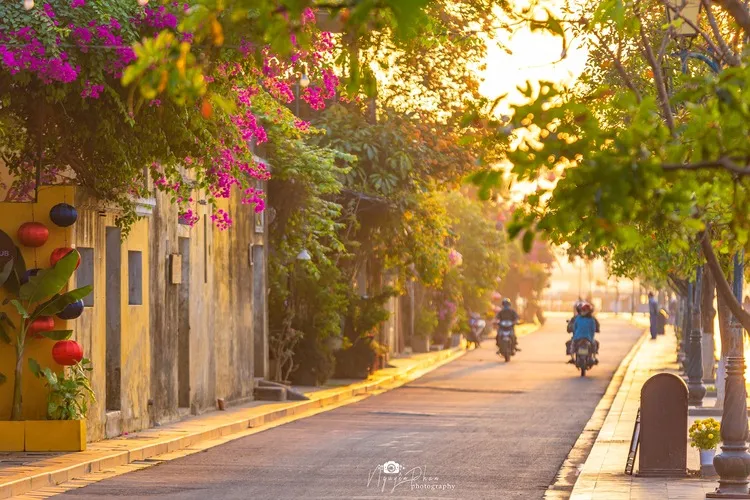 Hoi An Ancient town (Source of photo: Nguyen Phan)
Leaving Hoi An to Hue, you will pass one of the most beautiful coastal roads and majestic Hai Van pass. Step into the captivating realm of Hue, you will feel it somehow different from the other cities in the pace of life, architecture and cuisine. Hue is a city that creates a mesmerising mixture of imperial splendour and cultural treasures. As the former capital of Vietnam, Hue boasts an enchanting Imperial City, where the Nguyen emperors used to live, reigned and developed the prosperous country. An unmissable experience among many tourists is the cruise along the Perfume River to Thien Mu Pagoda. A relish "bun bo Hue" soup bowl can evoke your taste buds and make you want to wander and discover more bustling markets and food streets. Spend a pleasant time wandering through lush gardens to discover the opulent tombs of Nguyen emperors and Hue's temples. With every step, Hue's vibrant history and warm hospitality create an unforgettable Vietnam 14-day journey.
Things to to in Hue in your Vietnam 14-day tour:
Visit the Hue Royal Citadel and the Thien Mu Pagoda
Visit one of the Nguyen Emperors' Tombs: Minh Mang tomb, Khai Dinh tomb, Tu Duc tomb, Gia Long tomb
Take a boat cruise on the Perfume River
Cycle in peaceful Thuy Bieu village and know about their garden houses
Spend time with artisans in Thanh Tien paper flower making village or Thuy Xuan incense making village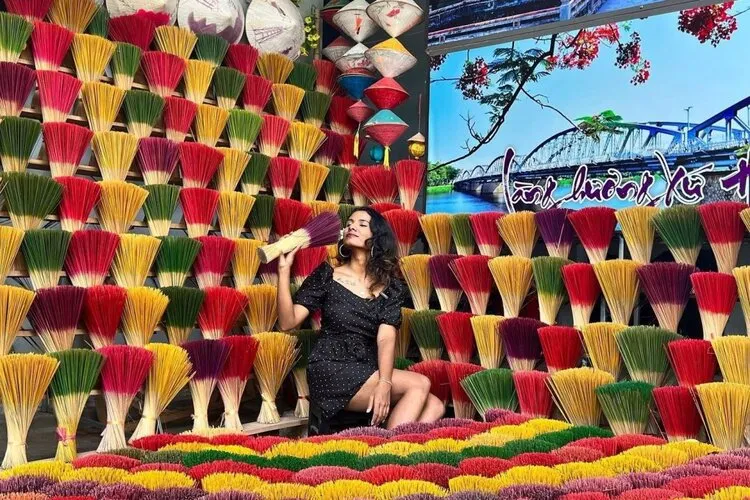 Thuy Xuan incense village in Hue
Welcome to Hanoi, where history and modernity harmoniously intertwine along the banks of the Red River. Within the 14 day tour, you can spend 1-2 days in the capital city of Vietnam then discover more captivating sightseeing in the north.
Wander through the timeless Old Quarter's maze-like streets, you will feel the pulse of local life at Hoan Kiem Lake, and marvel at architectural wonders like the Temple of Literature and the Hanoi Opera House. Indulge your taste buds with aromatic street food, find tranquillity at West Lake's Tran Quoc Pagoda, and uncover hidden gems like the Long Bien Bridge. Hanoi's captivating blend of culture, cuisine, and charm promises an unforgettable journey into the heart of Vietnam.
Things to do in Hanoi during Vietnam 14-day itinerary:
Explore the bustling streets of Hanoi, the capital city
Visit Hoan Kiem Lake and Ngoc Son Temple
Experience the Old Quarter with its narrow streets and French colonial architecture
Don't miss the Ho Chi Minh Mausoleum, Vietnam Museum of Ethnology, Hoa Lo Prison, the Temple of Literature, Tran Quoc Pagoda, Quan Thanh temple and the Hanoi Opera House
Watch water puppet show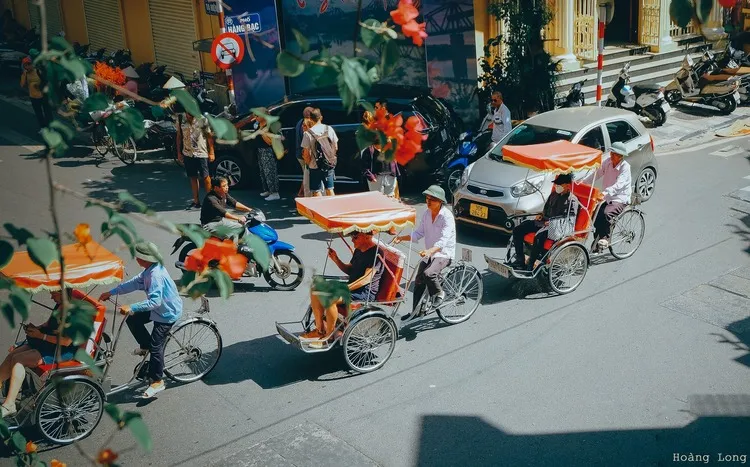 Hanoi Old Quarter (Source of photo: Hoang Long)
Sapa town was established in 1905, when the French discovered it was an ideal place to build a resort. The climate in the whole town of Sa Pa has the characteristics of a temperate country. The air is cool all year round with an average temperature of 15-18°C. In the summer, one day here the weather is as if there were all four seasons. Sapa is not only a captivating attraction where terraced rice fields form living artwork but also cultural encounters unveil vibrant traditions of Hmong and Red Dao people. Treks through valleys lead to the small villages, where you can feel the aroma of mountain herbs infusing local cuisine. Amidst waterfalls and hidden villages, time seems suspended. In the evening, if not going to the vibrant Sapa night market, you may spend time in a cosy local homestay. Every moment in Sapa will be an invitation to uncover the unique cultural charms.
Things to do in Sapa during Vietnam 14-day itinerary:
Take scenic hikes to villages like Y Linh Ho, Lao Chai, Ta Van, Ma Tra, Ta Phin, meeting ethnic minority communities
Capture the moments of stunning terraced rice fields
Take cable car to Fansipan peak to enjoy breathtaking views
Enjoy Sapa salmon, sturgeon hot pot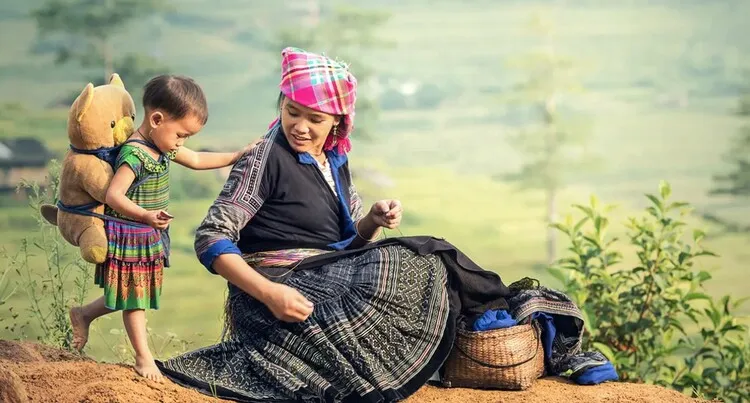 On the last 2 days in Vietnam, spend your time on a cruise in Halong Bay, which is one of the most lovely places in the world to see incredible sunrises. Here the giant spectacular limestone columns jutting from the emerald water. Halong Bay is best experienced within 1, 2 or 3 days tours including transportation from Hanoi. These cruise tours will show you all the best sightseeing. The alternatives for Halong Bay are Bai Tu Long Bay and Lan Ha Bay. In all of the bays, you can admire the natural caves, white sand beaches and limestone mountains shaped differently. You will witness both breathtaking sunrises and sunsets if the weather is favourable. Savour Vietnamese culinary delights while sailing through the bay. At night, try your luck with squid fishing before going to sound sleep on a boat. Halong Bay isn't just a destination, it's a symphony of nature and legend that will leave you enchanted and inspired.
After 2 days, you'll head back to Hanoi, where you'll take your safe departure flight back home.
Things to do in Halong Bay during Vietnam 14-day itinerary:
Take a cruise on the emerald waters through limestone karsts
Exercise morning Tai chi
Enjoy kayaking, swimming, and exploring the natural caves and grottoes
Overnight on a cruise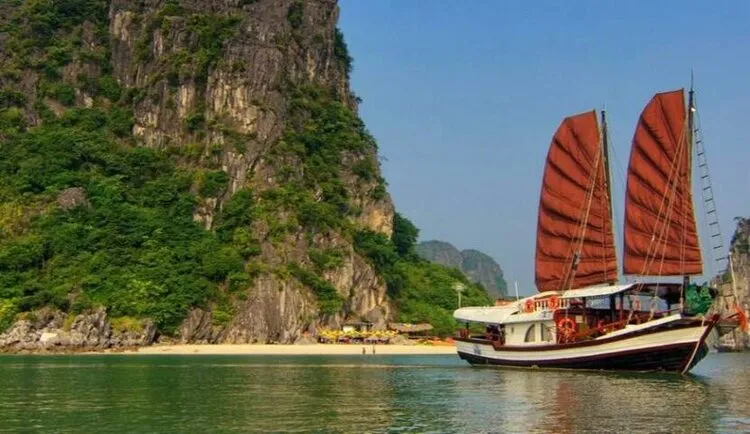 Vietnam has a diverse climate, and each country's region gets a range of weather. Northern region of Vietnam experiences four distinct seasons, with consistent weather patterns throughout the year. Central Vietnam experiences only two seasons: a dry period from December to August and a rainy season from September to November, distinct from the multiple seasons in the north. The tropical climate of South Vietnam maintains temperatures between 25 and 35 degrees Celsius consistently, with daytime temperatures frequently hovering around 30 degrees. Therefore, the best time to visit Vietnam for a 14 day tour is in January to May, when the weather is pretty good in most regions in Vietnam. However, throughout the year, there are always places with pleasant weather suitable for your Vietnam trip.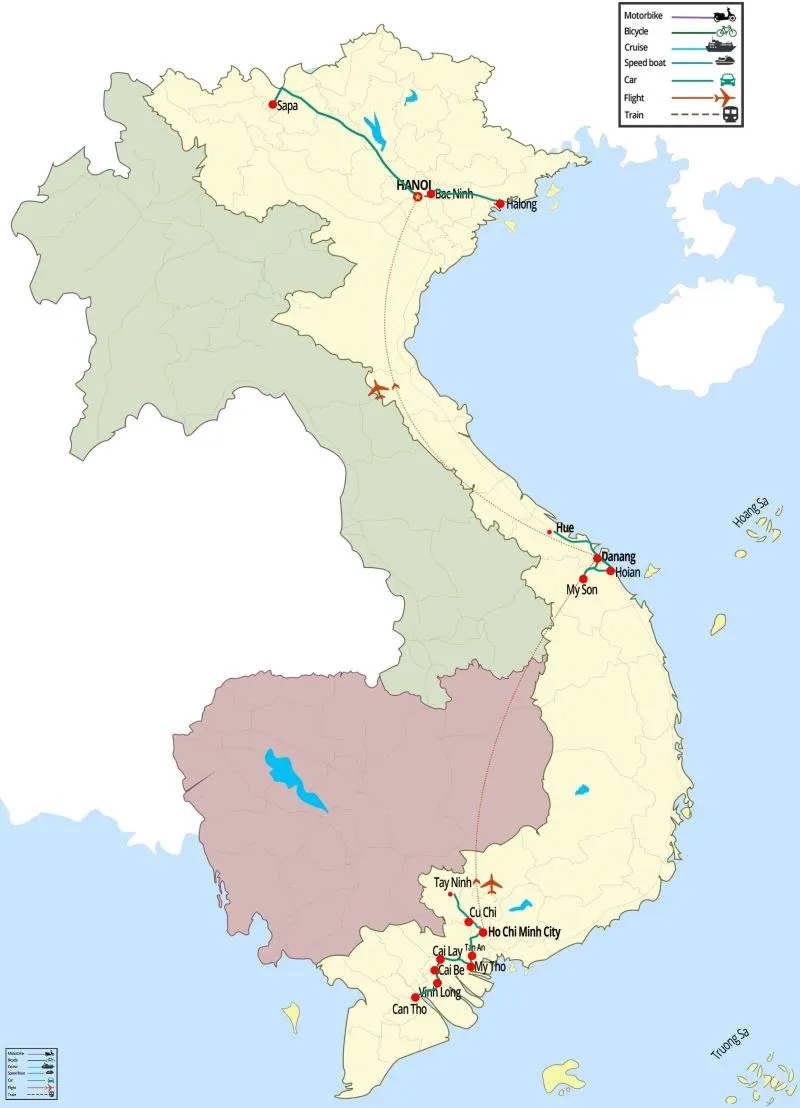 Above is a characteristic suggestion about the Vietnam itinerary in 2 weeks. You can easily check the real time price of a detailed itinerary to estimate the cost of your upcoming trip here: From Saigon to Hanoi: Easy Vietnam Discovery | Classic Tour - 14 Days. If you would like some help to create your own Vietnam itinerary, please comment below.
In addition, you can find more inspiration for your travels with Izitour. See more 14-day Vietnam tours, with many outdoor adventurous activities, cultural trips and best tours visiting the country's highlights.