Hanoi is one of the top destination that come up into traveler mind when visiting Vietnam. You may not visit all of the Hanoi attractions in only one trip. Some favour the historic sites while the other love the cultural places, let's find out about top tourist attractions in Hanoi to add to your memorable journey.
Table of content
Hanoi (Ha Noi), the capital as well as Cultural and political center, is located in the northern part of Vietnam, within the Red River delta. Hanoi has been through a lot in its lifetime - from being the capital of an empire to being at the heart of a war-torn country. But it has always managed to rebound and become a thriving metropolis and one of the most popular tourist destinations in Southeast Asia. Nowadays, Hanoi is famous for its bustling scene with a population of over 8.3 million which resulted in a hurried lifestyle. However, there is another richer and more tranquil look to it which you can discover throughout the many tourist attractions in Hanoi.
Ha Noi is one of the many names that was given to the city. Throughout history, the names change with time and dynasties; from Thang Long (Ascending dragon), Dong Quan, Dong Kinh (Eastern Capital) and now Ha Noi in which Ha means "river" and Noi means "inside"; so, the name literally means the city within rivers. Similar to many civilizations, Hanoi became an important part because of its position: Riverside; favorable for trading as well as developing agriculture. As a cradle of civilization, Hanoi soon developed quickly in religion, economy, culture despite the effects that many wars had brought on. These below Hanoi attractions are the standing evidence of the coexistence between two states: Tradition and modernity, bustling and laidback.
Ideal visiting time: September - November for the weather but bustling and interesting all year long. If you are planning for a several day tour in Vietnam then.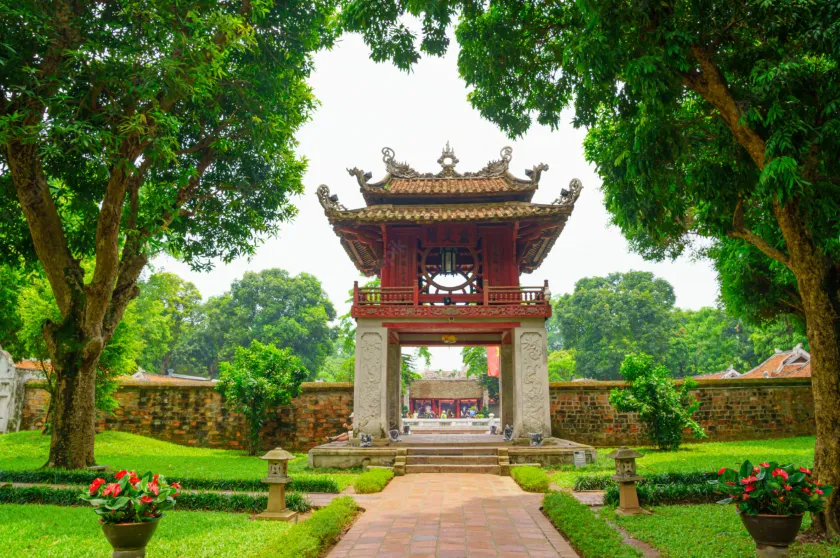 Temple of Literature - one of the famous Hanoi landmarks
The Temple of Literature was built in 1070 to worship Confucius and the practice of Confucianism. Then in 1076, the Imperial Academy was established in order to educate princes, nobles and bureaucrats. Later, it was considered to be Vietnam's first university. In the 11th century, Confucianism was not just a belief, it was a living, working and reigning standard which focused on perfecting one's morals. The students weren't taught science or math; instead, they learnt Confucianism principle and literature. On the other hand, these attractions' architecture is well preserved although parts of it were rebuilt after the war and colonial period. If you look closely, every decorative detail in the vicinity has its own meaning such as the Constellation of Literature pavilion or the four holy beasts on the pillars in front of the entrance, etc. Temple of Literature and Imperial Academy portray a perfect intellectual and materialistic image of how feudal life was.
The origin of this Ha Noi attraction dates back to the 7th century, when its very first foundation was set up. Under Chinese invasion at the time, Đại La (original name by the Northern Dynasties) Chinese fortress was said to be built in the area. In 1010, Hanoi was first chosen to be the capital of VN by king Lý Thái Tổ and remained to be the central city for many centuries. As one of oldest cities in the world, Hanoi certainly has its own way to stand out from fellow Southeast Asian cities. Its rich culture is reflected on one of the most ancient historical sites: the Imperial Citadel of Thang Long. Originally, it was the place where kings reigned while imperial ceremonies and great national affairs were celebrated.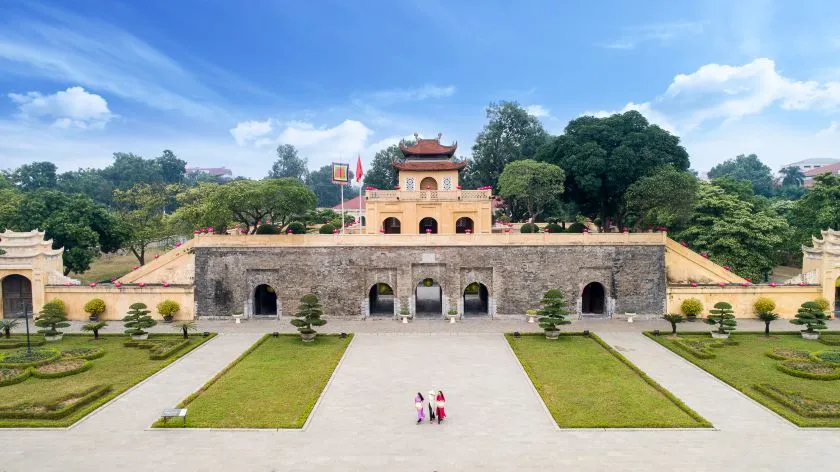 Imperial Citadel of Thang Long
While visiting The Imperial Citadel of Thang Long, you have the opportunities to explore the in-depth history of Hanoi through many aspects and moments in time. The Imperial Citadel offers many layers of evidence from the archeological site in 18 Hoang Dieu as well as the exhibition spaces throughout the vicinity. The exhibition area is well organized with A/C support so visitors won't have to worry about Hanoi's heat during the summer. Advancing inward, you can visit the house D67 – Headquarters of the Defense Ministry, where the People's Army of Vietnam planned their major moves against US forces. With everything in store, the central sector of the Imperial Citadel of Thăng Long – UNESCO World Heritage site, is a must visit place when you visit Hanoi.
>> See more: Discover Thang Long Citadel - Half Day Tour
Ho Chi Minh (Uncle Ho) is one of the most respected leaders and national heroes of Vietnam. He had sacrificed his whole life for the better of the Vietnamese people. In order for the next generation and the Southern compatriots to show their respect to uncle Ho after the long, divided war, the Ho Chi Minh mausoleum was constructed to hold the remains of the Great Father. Beside the Mausoleum, other attractions within the complex will also assist you to learn about Uncle Ho and his journey with the people of Vietnam towards independence and freedom.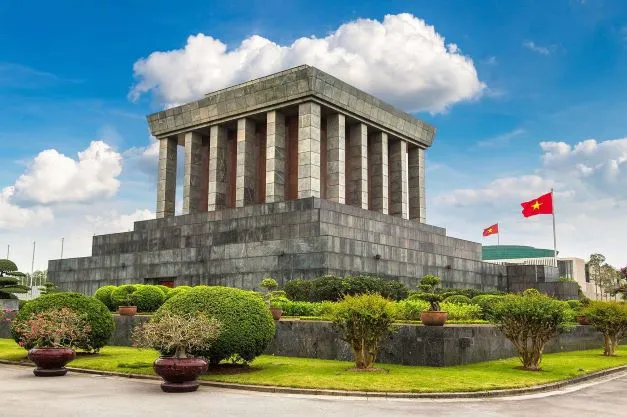 Ho Chi Minh Mausoleum Complex
The Complex includes; Ba Dinh square, frontal square of the Mausoleum, where the Declaration of Independence of Vietnam was introduced by Ho Chi Minh himself on 02/09/1945. Moving on to the Ho Chi Minh Museum, it holds a tremendous exhibition which contains priceless historical documents and show-pieces, systematically reflecting Ho Chi Minh's Working Life and Vietnam's Revolutionary Way. Behind the Mausoleum are the House No.54 and Uncle Ho's house on stilts where he worked and lived since 1954. The houses reflect the simple life of Uncle Ho, who refused to live a luxury life while his People were suffering. Besides, the One Pillar Pagoda is also an attractive religious place with interesting architecture and mysterious chronicles. Together, these tourist attractions in Hanoi will potentially bring so much more to you visit.
3.1. Ho Chi Minh Mausoleum
Address: 25 Hung Vuong, Dien Ban, Ba Dinh, Hanoi
Opening days: Tuesday, Wednesday, Thursday, Saturday, Sunday
Opening hours: Seasonal:
April 1st to October 31st: 07.30 - 10.30 (Saturdays, Sundays and public holidays: 07.30 - 11.00)
November 1st to March 31st of next year: 8.00 - 11.00
Entrance fee: Free (VND 25.000 if you proceed to the Ho Chi Minh house on stilts)
3.2. Ho Chi Minh Museum
Address: 185/19 Ngoc Ha, Doi Can, Ba Dinh, Hanoi
Opening days: Tuesday, Wednesday, Thursday, Saturday, Sunday
Opening hours:
Morning: from 08:00 to 12:00
Afternoon: from 14:00 to 16:30
Entrance fee: VND 25.000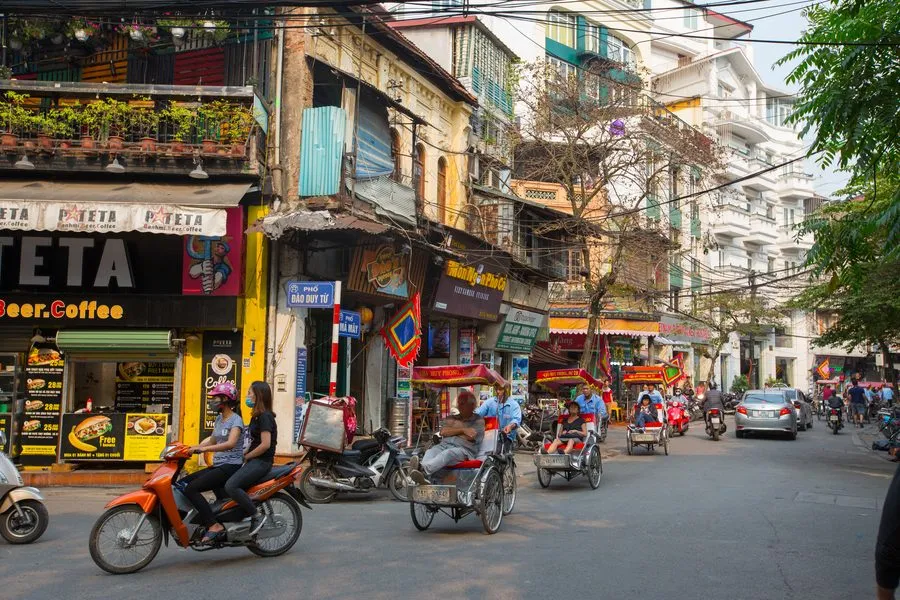 Hanoi Old Quarter -
When you visit Hanoi, it would be a mistake to not visit Hanoi Old Quarter, French Quarter and the narrow streets around Hoan Kiem Lake. These Hanoi landmarks are the center of cuisine and culture where you can experience the life of a Hanoian. Unlike the previous attraction, instead of reading, watching and hearing to find information, you will have to actually blend into the bustling street of Hanoi Old Quarter, try haggling for goods, taste traditional food from all around Vietnam from dusk till dawn and sip the famous Vietnamese coffee in the morning, while reading your favorite books. If by any chance you are tired of all the noises and tumult of the street, wake up early and take a stroll around Hoan Kiem lake on the weekend on the walking street. The multi characteristics of the Old Quarter have made so many expats and tourists fall in love, now come and experience it for yourself
Walking streets open every Friday night - Sunday night with the majority of the streets around the lake closed for walking-only beside many other activities.
Religion is one of the most important aspects in Vietnam, it reflects Vietnamese people's spiritual life. As a result, these religious attractions in Hanoi were built to satisfy our demands. Most of these venerable attractions date back to the 17th century or even older. Each of them was built for a different purpose:
Temples: worshiping Vietnamese Saints, Mother Goddess and the Guardians who protect the area;
Pagodas: practicing Buddhism;
Communal houses: worshiping the village's spiritual leaders village meetings, ceremonies and parties
However, once you visit them, you will be able to spot the similarities: the distinctive smell of incense; the murmured whispers of the worshipers, politely asking for the blessings from the Gods; the tranquil and venerable atmosphere. Interestingly, some places even offer fortune telling which is quite accurate (based on personal experience). On the other hand, these attractions have a wide range of architectural features, paintings, and engravings recognizable from the 16th - 18th centuries. Like the Temple of Literature, these Hanoi attractions are the perfect mixture of spiritual and materialistic values of Vietnamese culture.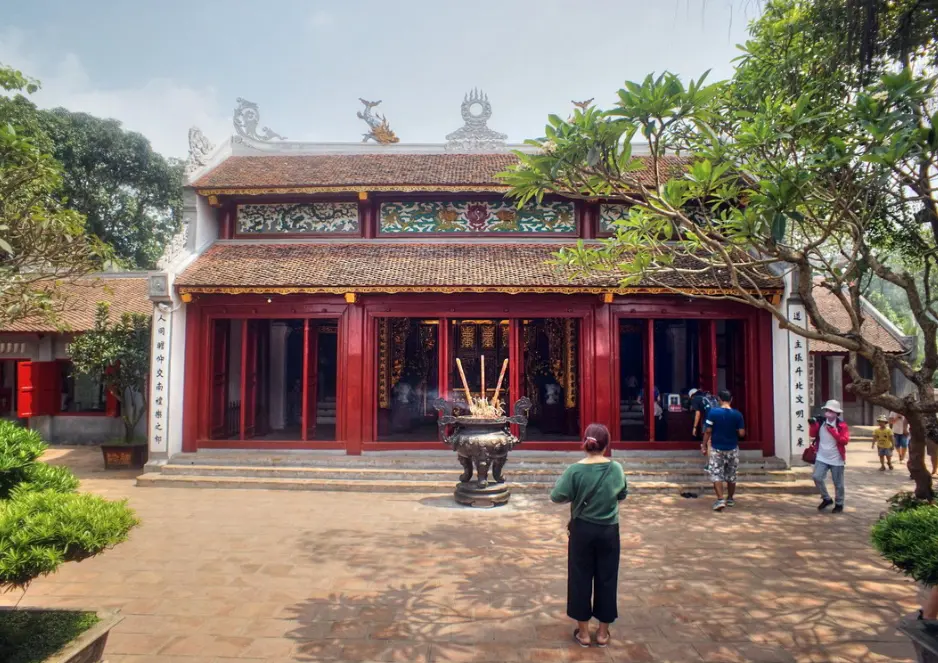 Ngoc Son Temple
Recommended places (within Hanoi center): Tran Quoc Pagoda, Quan Thanh Temple, Tay Ho temple, Ngoc Son Temple, Chem village communal house, Hai Ba Trung temple…
Hanoi suburb: Mong Phụ communal house (Duong Lam ancient village), Tuong Phieu communal House, Và Temple
Keep in mind that you need to dress properly (no miniskirts, tanktop, crop top and shorts) entering these spiritual places to show respect. This is part of the Vietnamese tradition and culture.
>> See more: Hanoi full day city tour - 01 Day
Continue to discover the list of Hanoi landmarks, the Museums in Hanoi have recently been renovated and improved significantly. Many are situated in French colonial, French mixed Chinese or modern architecture style buildings. Through several senses, the museum system provides a comprehensive image of Vietnamese culture, history, and people. The exhibitions vary from the histories of conflict and revolution within Vietnam, the liberation movements against many foreign occupations to the fabulous and colorful insights of 54 ethnic groups and the gorgeous yet simple images of Vietnamese people. The recommended museum attractions in Hanoi are: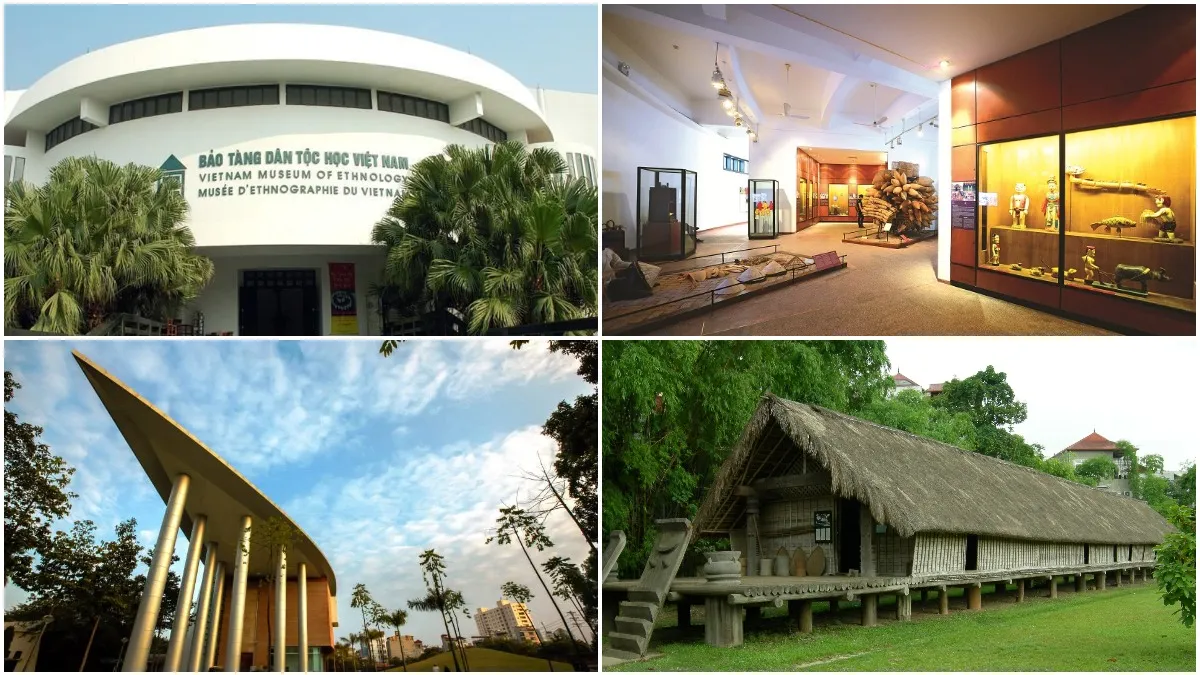 Museum of Ethnology
Address: 1 Nguyen Van Huyen street, Cau Giay
Opening day: Tue - Sun (Except for Monday and Lunar New Year)
Opening hour: 08:30 - 17:30
Ticket price:
Adult: 40,000 VND
University students: 15,000 VND
Elementary to High school students: 10,000 VND
Elderly people, people with disabilities, ethnic minorities: 50% discount on ticket price
Children under 6 years old, people with severe disabilities, ICOM cards, journalists' cards, sponsors: Free.
Address: 66 Nguyen Thai Hoc, Ba Dinh
Opening day: Everyday (except for Mondays)
Opening hour: 08:30 - 17:00
Ticket price: VND 40.000
Address: 36 Ly Thuong Kiet Str, Hoan Kiem
Opening day: Everyday
Opening hour: 08:00 - 17:00
Ticket price: VND 40.000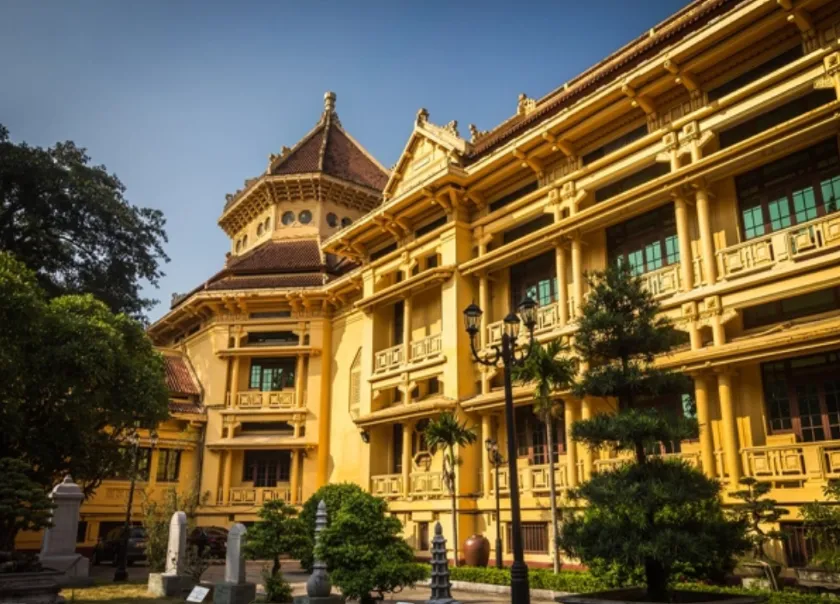 National Historical Museum
Address: 1 Trang Tien street, Hoan Kiem
Opening day: Everyday
Opening hour: 08.00 - 12:00, 13:30 - 17:00
Ticket price: VND 40.000
Address: Pham Hung street, Me Tri, Nam Tu Liem
Opening day: Everyday (except for Mondays)
Opening hour: 08.00 - 11:30 & 13:30 - 17.00
Ticket price: Free
>> See more: Hanoi half day biking tour - Half Day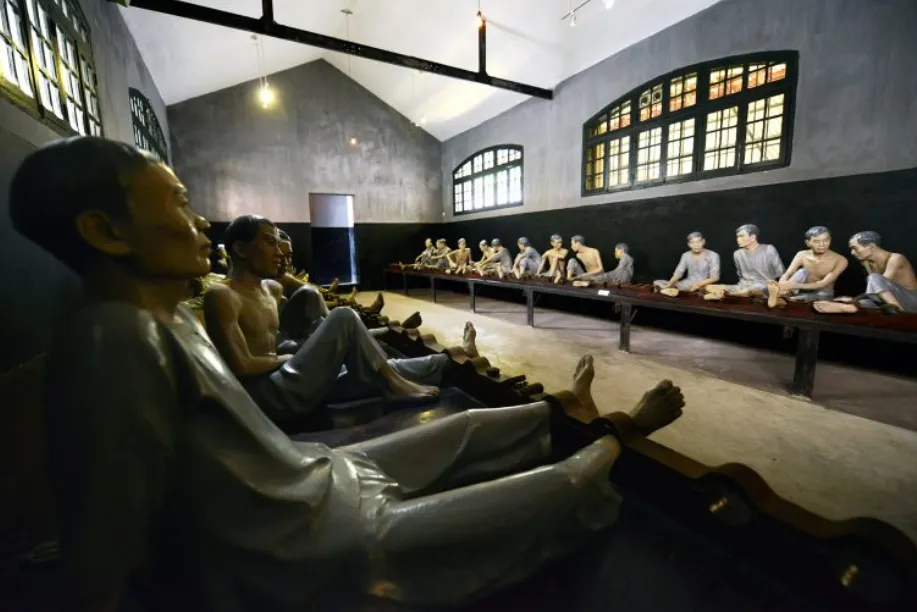 Hoa Lo Prison
If you wonder why Vietnamese people are strong-willed patriots and how they can reclaim their independence time after time, then Hoa Lo Prison is the perfect attraction for you. This Hanoi attraction is a symbol of colonialist exploitation and of the bitterness of the Vietnamese revolutionists towards the French. Hoa Lo prison was built by the French in 1896 and was named "Central House'' (Maison Centrale). This attraction has an important role for French colonists in suppressing the antagonist of the colonial system. On the other hand, for the Vietnamese, the prison is a revolutionary "institute" where their patriotism was molded and hardened to an unbreakable point. Hoa Lo was one of the scariest prison of SouthEast Asia at the time with an overall area of 12000m2, surrounded by a 4m tall, 0.5m thick electrical fortified wall; equipped with a 4m tall Guillotine and security measures imported from France, it oozes a frigid and deadly atmosphere. However, just like the name of this Hanoi attraction - Hoa Lo (fiery furnace), the fire of patriotism inside of Vietnamese revolutionists' hearts burns endlessly and has inspired many later generations. Nowadays, Hoa Lo Prison's size has been reduced to 2400m2 and turned into a Museum, but the image and the atmosphere remain unchanged.
Location: 1 Hoa Lo Street, Hoan Kiem District, Hanoi
Opening hours: from 08h00 to 17h00 every day except special holidays.
Ticket price: VND 30,000/pax.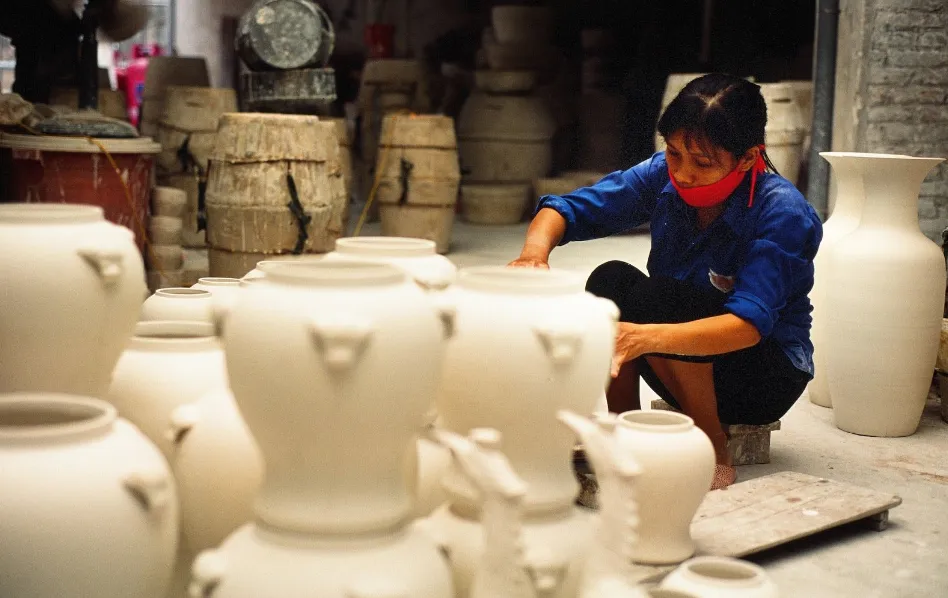 Bat Trang Ceramic Village
Located 13 km SouthEast of Hanoi, in a clay-rich area, Bat Trang Ceramic Village has the advantage of materials to create fine ceramics. Moreover, lying just beside the Red river, between Thang Long and Pho Hien, two of the most bustling trade centers in the north of Vietnam during the 15th-17th century. Bat Trang's ceramics were favorite products not only in the domestic market, but also the foreign ones such as Japan, China, Holland, Portugal etc. thanks to the prime position of Vietnam on the World map due to the trade-wind. The ceramics products of Bat Trang vary from household wares, ceremonial wares, ornaments,... Bat Trang ceramics are famous for its quality, glaze and variety in color, decorations; each product carries many decorative details reflecting the Vietnamese culture and beliefs through hundreds of years. This Hanoi attraction will be a perfect destination to learn about Vietnamese culture and bring home some beautiful ceramic souvenirs.
How to get to Bat Trang Ceramic Village?
Bus 47 (Long Bien- Bat Trang) stops just a few steps from Dong Xuan Market with the end terminal in Bat Trang ceramic village. The bus runs every 20 minutes.
Rent and ride a motorbike from the center of Hanoi to Bat Trang ( 20 minutes)
Rent a Xe Om or Taxi to take you there!
>> See more: Nom ancient village & Bat Trang pottery center - 01 Day
Located far from Hanoi's centre about 30km, Chuong Village is a traditional village where you can discover how hats are made. The green palm leaves gone through many process under the skillful hand of villagers then become the beautiful products.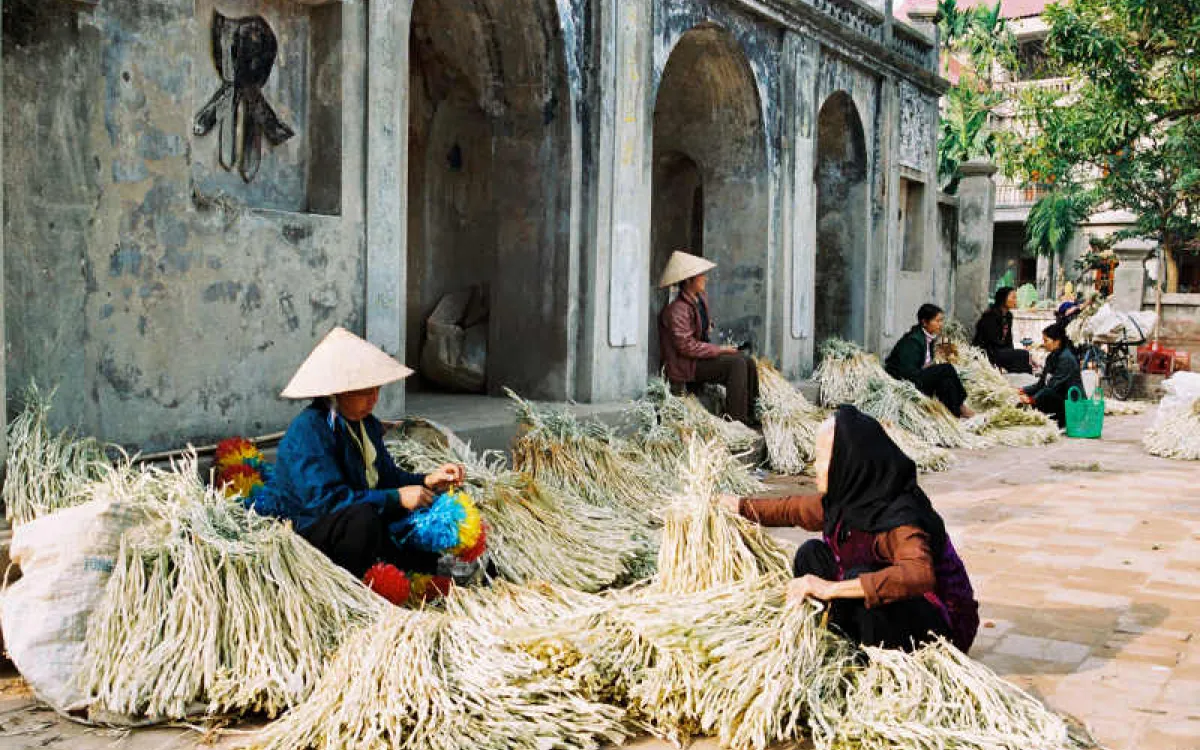 Making conical hats in Chuong Village
Vac Village, located 30km far from Hanoi center, is well-known for different traditional handicraft, particularly bird cages. In the village, there are still 100 households making bird cages for a long time. The products are decorated nicely and made with high quality. This is an ideal destination for bird tender and visitors also.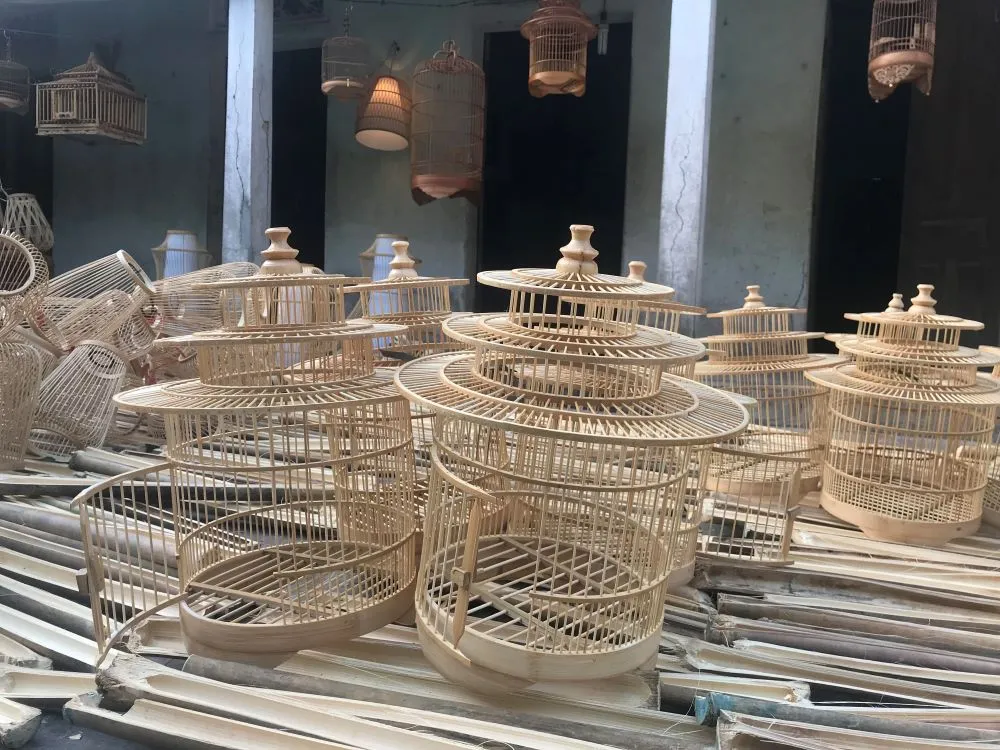 Bird Cage made in Vac Village
Chua Huong (also known as Perfume Pagoda) is located 60km to the southwest of Hanoi, built since 15th century. To reach the sacred Perfume Pagoda, tourists have to book a boat ride with the locals. Along the Yen stream, you can witness the blooming apricot and lotus flower in spring. Most of pilgrims and tourists come to the pagoda seek for happiness, wealth and prosperity.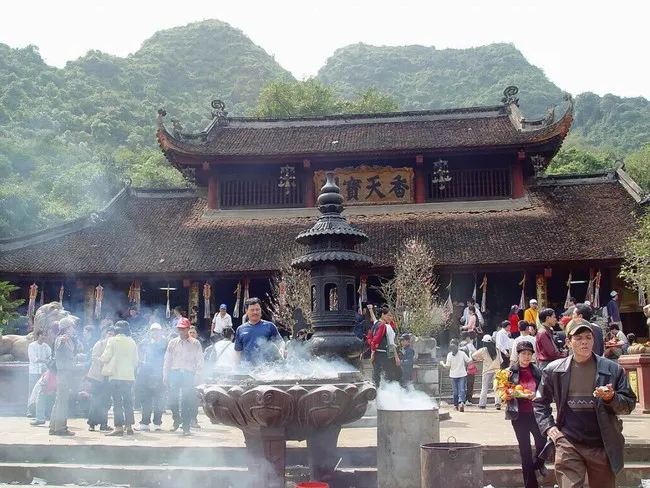 Perfume Pagoda
Chua Thay (also known as Thay Pagoda) located around 25km to the southwest of Hanoi centre. The harmony natural landscape and special ancient architecture turn Thay Pagoda an alluring spiritual attraction in Hanoi. In 3rd lunar month every year, people help Thay Pagoda festival to celebrate Zen Master Tu Dao Hanh – the ancestor of water puppetry.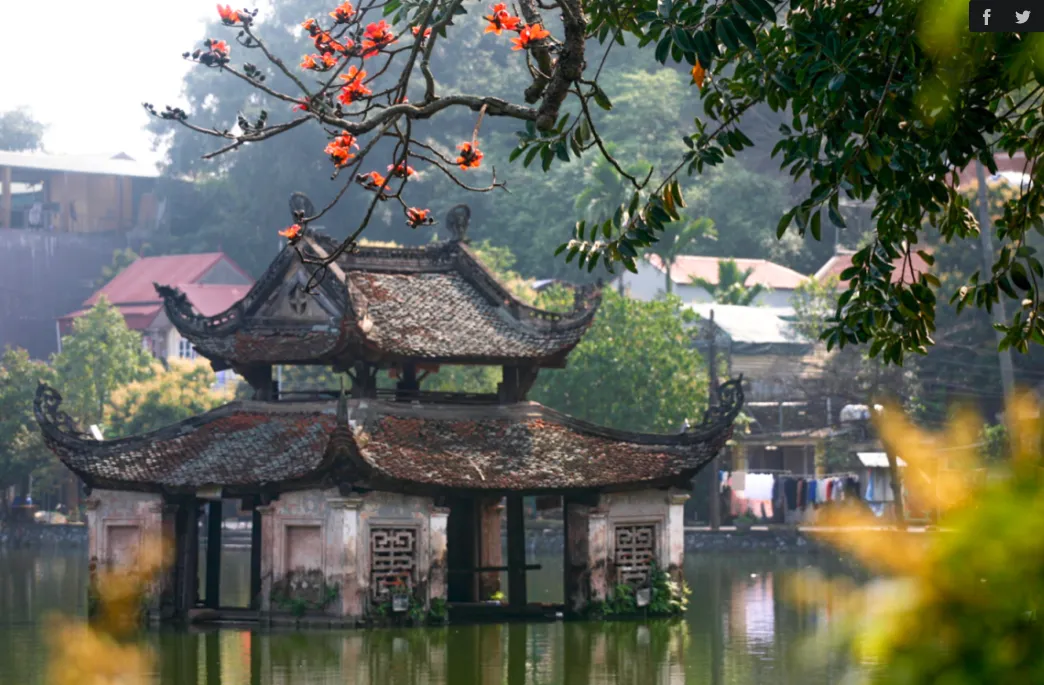 Thay Pagoda
With above information, we hope you can sort out the perfect trip in Hanoi, Vietnam. If you would like to get help to customize Hanoi Tour and Vietnam Tour, feel free to send us your request via this link: Customize Vietnam Tour
>>> See more Hanoi Tours with real time pricing: Hanoi Private Tours, Day Trips & Excursions