Ninh Binh, also famous - known as Ha Long Bay on land, is one of the must-visit destinations in Vietnam. It is the place which was chosen to film Indochine 1992 with the participation of legendary actress Catherine Deneuve and blockbuster movie Kong: Skull island. Ninh Binh is more and more famous and attract tourists all over the world.

Located 100 km south of Hanoi, it only takes about 1:30 to maximum 3 hours to travel to Ninh Binh by car, bus, motorbike or train. It is very easy to make 1day trip, 2 days 1 night, or connect with other tourist destinations such as Hai Phong, Cat Ba, Ha Long, Mai Chau, Pu Luong, Phong Nha, Hue.
>>>See more How to get to Ninh Binh?

In fact, Ninh Binh tourist center is not located in Ninh Binh city, but in Tam Coc - Bich Dong. Most of the hotels, services, and tourism activities are in this area. Ninh Binh city is just the administrative center, there's nothing to visit.
---
Top unmissable places in Ninh Binh
Ninh Binh is suitable for most tourists because it has many diverse attractions, both natural and cultural, historical and religious.
Traveling to Ninh Binh, it is impossible not to mention the name "Ha Long Bay on land". With special terrain, mountains, rivers, and fields alternating, Ninh Binh owns some few beautiful "Ha Long bays on land", in which the highlights are Tam Coc, Trang An and Van Long.
1.1 Tam Coc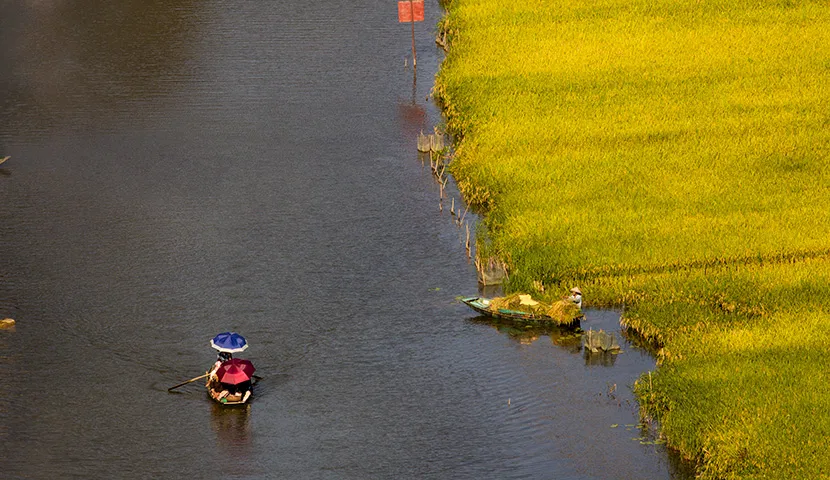 Tam Coc - located in Ninh Hai commune, Hoa Lu district - is the first place developing tourism in Ninh Binh and is the most popular name for tourists. Tam Coc used to be the shoooting location for in Pan (2015). Take a boat ride on the Ngo Dong River, through 3 caves, you will be immersed in the poetic beauty of this place: the rocky mountains appear above the water, the river winding like a silk ribbon, the stunning rice field in the rice season (from April to May) ...
The total travel time (in and out) in Tam Coc is about 1 hour 45 minutes
Entrance fee tickets and boat trip
Adult: 195.000 VND/pax
Children: under 1.4m: 135.000 VND/kid
Children: under 3 YO: free
Each boat carrying 2 pax. If you travel alone, you can share the boat with others to save the cost.
>>>What to do in Tam Coc?
Tam Coc is the tourist center of Ninh Binh, so it is also the place where the highest concentration of tourism services and products: restaurants, hotels, evening entertainment areas, shopping.
Besides the boat trips, you can rent a bicycle or a motorbike to ride or walk around Tam Coc. From Tam Coc, you will cycle to Bich Dong pagoda, Thai vi temple, to Thung Nham and Hang Dance if you want. The very quiet and romantic cycling route: The small village road is winding at the foot of the mountain, the two sides of the road are rivers, rice fields, lotus pond ...

It is also famous for the traditional embroidery village - Van Lam village.
Taking the buffalo cart can be suitable for families with young children (150,000 VND / cart for 2 adults).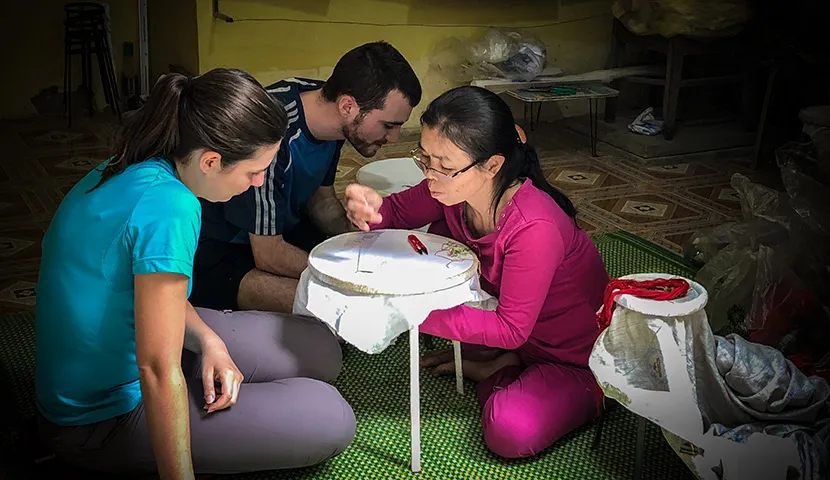 >>>What to eat in Tam Coc?
Coming to Tam Coc, there are many restaurants for you to choose from, both European and Asian style. You will enjoy delicious regional specialties: goat meat, burnt rice, mountain snails, ... Grilled duck at local restaurants along Tam Coc wharf is also very attractive to tourists, good price and very delicious!
>>>Where to stay in Tam Coc?
Depending on your budgets, you can stay in hotel from homestay to luxury in Tam Coc
Boutique cozy hotel: Tam Coc garden
4 star: Ninh Binh hidden Charm
3 star: Horizon bungalow, Chez Loan, Papaya bungalow, La belle Vie…
2 star: Nam Hoa hotel
Home stay: Chez Hiep Tam Coc
1.2 Trang An – Nature world heritage by Unesco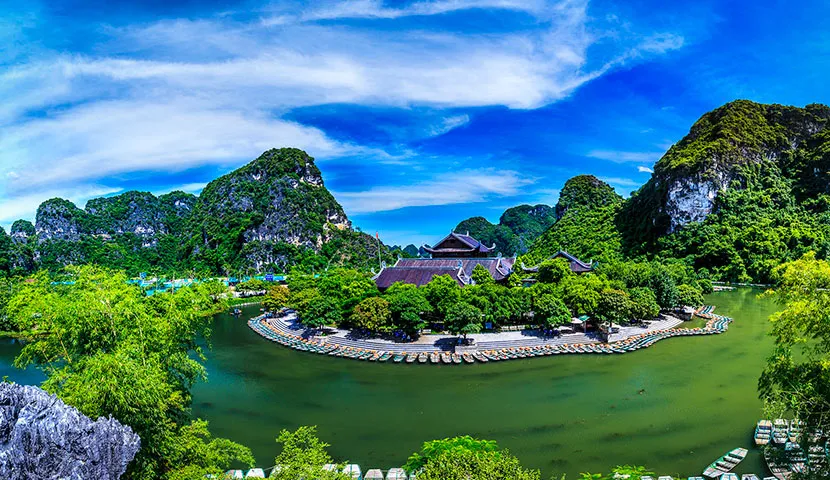 Located 10 km from Tam Coc, Trang An is bigger, more majestic and wilder. It is currently the most famous tourist destination of Ninh Binh. Trang An - Ninh Binh has been recognized by Unesco as a world natural and cultural heritage. It was also chosen as the filming site for the famous movie Kong: Skull Island.
The whole landscape is a picture of sharp limestone mountains covered by green forests, wide and long stretches through the ravine and dozens of beautiful natural caves.

Trang An is also the spiritual land of many ancient temples and various historical temples. Ancient temples and pagodas locate solemnly on the limestone mountains, hidden in deep green forests.
The most pleasant weather to go to Trang An is from January to March. It is dry and cool. However, summer is also interesting because the scenery is very bright under the sun.

>>>3 boat trip routes in Trang An
Route 1: Trang An pier – Trinh temple – Dark cave – Bright cave – Wine cave – Tran temple – Ba Giot cave – Seo cave – Son Duong cave – Khong temple – Bao Hieu pagoda – Khong cave – Tran cave – Quy Hau cave – then return to Trang An pier ( 3.5 hours)
Route 2: Tran An pier – Lam cave – Vang cave – Thanh Truot cave – Suoi Tien temple – Dai cave – Vu Lam palace – Film Studio Kong – return to Trang An pier ( 2.5 hours)
Route 3: Trang An pier – Trinh temple – May cave – Suoi Tien – Dia Linh cave – Dai Cave – Vu Lam palace – Film Studio Kong – Return to Trang An pier ( 3 hours)
Route 1 will take you to visit the most of caves and it also take more time. The route 2 and 3 are more popular because it is not too long on the boat, still enjoy the beautiful landscapes. Film studio Kong recently closed to remain, you just pass it, not get into it.

>>>Entrance fee and boat trip
Adult: 250.000 VND/pax
Children from 1m-1.3m: 120.000 VND
Children under 1m: free
One boat carries max 4 pax, if your group is less than 4 people, you have to share with others or you have to pay full 4 tickets.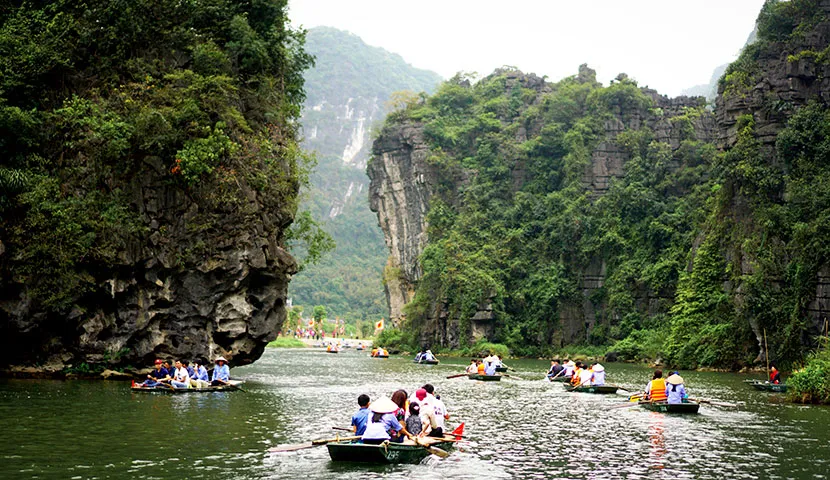 After Trang An boat trip, you can continue to visit Hoa Lu ancient capital (5kms away) or Bai Dinh pagoda (10km away). There is Electric car transfer between Trang An and Bai Dinh, the fee is 60.000 VND for both directions.
>>>Where to stay in Trang An?
Not many choice to stay in Trang An, if you would like to stay nearby the Trang An pier, there are only some small boutique and cozy bungalows
Trang An retreat
Trang An bungalow
Trang An Ecolodge
>>>Where to eat in Trang An?
You can order the Ninh Binh specialties in the restaurant by Trang An pier with good taste and reasonable price.
1.3. Van Long Nature reserve
If you are looking for an authentic destination, that would be Van Long
Unlike the hustle and bustle of Tam Coc or Trang An, Van Long is still very quiet and wild. Rowing in Van Long, you will feel overwhelmed by the natural beauty, almost without human intervention. Well known as the bay without waves, the water is calm as a mirror reflecting the mountains and sky.
Van Long nature reserve spreads an area of more than 300 hectares, located in Gia Vien district - Ninh Binh, 25km from Tam Coc, 22 km from Trang An and 16 km from Hoa Lu.
Van Long has an extremely rich and unique ecosystem. This place owns 2 records of Vietnam in 2010 that are: "Place with the most number of white-headed langurs" and "Place with the largest natural picture". Van Long is also home to 72 bird species. Here, you can see birds flying in the sky creating a very beautiful scene.
The best time to visit Van Long is in summer, from May to September. It is a bit hot, but the time when you can get a clear view of this wonderful natural picture.
Should take the Van Long boat in the afternoon, you can have the opportunity to see many different types of birds or see first-hand rare birds in the red book. Boat ride time is 1 – 1.5 hours.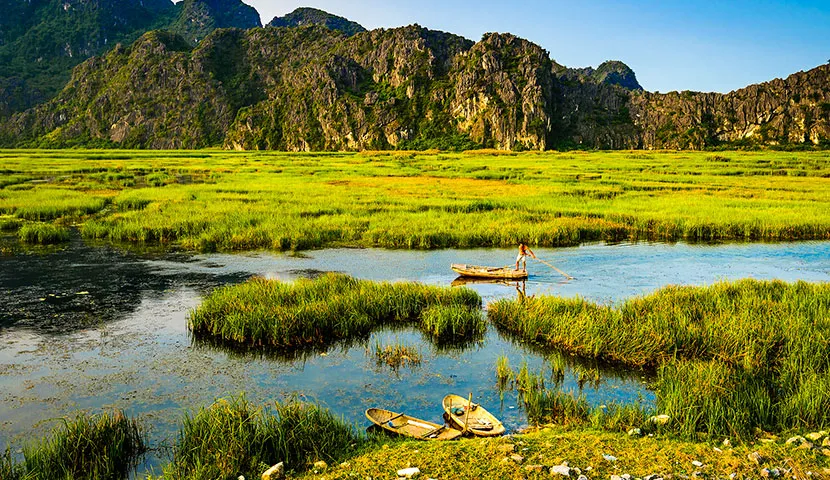 Boat trip price in Van Long: 100.000 VND/pax
Children under 3: Free
Each boat carries 2 people maximum.
>>>Other activities in Van Long:
Biking: You can spend all day exploring Van Long. In the morning, ride a bike around the village, then walk along the dike, watch the rice fields far from the eye, the gentle river, great mountain ranges, you are like in a rural scene of a romantic movie.
Encounter locals people
The friendly, open-minded people here are always ready to welcome you. During this trip, you can meet Mr. Tuong - the guard of Thung La temple and listen to the stories, or meet Ms. Lam - the hand-embroiderer, who will teach you how to embroider. These are special meetings organized by Izitour.com
Enjoy a buffalo cart: if you cannot cycle, you can experience interesting buffalo cart (150,000 VND / x echo 2 adults).
>>>Where to stay in Van Long?
In Van Long, there is not many hotels however, they are one of the bests in Ninh Binh
5 star hotel: Emeralda Resort
3 star: Van Long garden
Homestay: Van Long family homesay
---
Besides the beautiful natural landscapes, Ninh Binh owns many famous historical, cultural and religious places with unique architecture.
Note for the clothes when visiting these points: polite clothes, no sleeveless shirts or shorts, and a skirt that is too short.
2.1 Hoa Lu ancient capital – Dinh king and Le King temple
If you are interested in Vietnamese history and architecture, you should not miss Hoa Lu ancient capital. With a history of more than 1000 years, this is an important relic of Vietnam, and is also recognized by UNESSCO as one of the four core regions of Trang An World Heritage Site
You will visit Dinh king, Le king Temple and some other temples and pagodas in the area. The works have clearly traces of time with unique architecture, located in harmony with the natural landscape.




Dinh king and Le king temple are about 16 km from Tam Coc. With a bicycle tour to explore Ninh Binh, you will cycle from Tam Coc, through Thung Nham, Hang Mua (Dancing cave) and then to Hoa Lu. However, at present, the distance from Hang Mua to Hoa Lu is a big road with many motorbikes and cars, so it is no longer suitable for cycling.

You can visit Hoa Lu on the way from Mai Chau to Ninh Binh (or vice versa), or combine with a day tour to Ninh Binh.
Entrance fee:
Adult: 20.000 VND
Children: 10.000 VND
2.2 Phat Diem Stone Cathedral
Located about 28 km from Tam Coc, Phat Diem Stone Church is the capital of Catholicism of Vietnam. Here, you will explore the unique and delicate combination between Western church architecture and traditional Vietnamese oriental temple architecture.
Church complex includes Cathedral Church, Stone Church, Phuong Dinh bell house, Lake and 3 artificial caves.
At Christmas you will find the church beautifully decorated.
This visit is usually held when you have 2 days in Ninh Binh. If there is only 1 day, priority should be given to more important beauty spot such as Ha Long bay on land, Hoa Lu ancient capital
Entrance fee: Free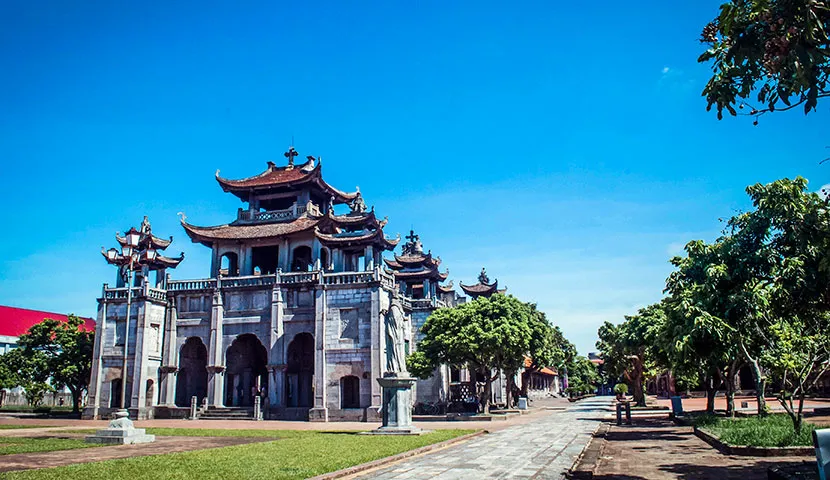 After visiting Phat Diem church, you can explore some of the surrounding attractions such as Kim Son tile roof bridge, traditional sedge mat weaving village, ...
Bus from Ninh Binh station - Phat Diem stone church: 20.000 VND / pax
2.3 Bai Dinh pagoda
As a major Buddhist center in Ninh Binh province, Bai Dinh pagoda includes a 1000-year-old pagoda and a new building in 2008.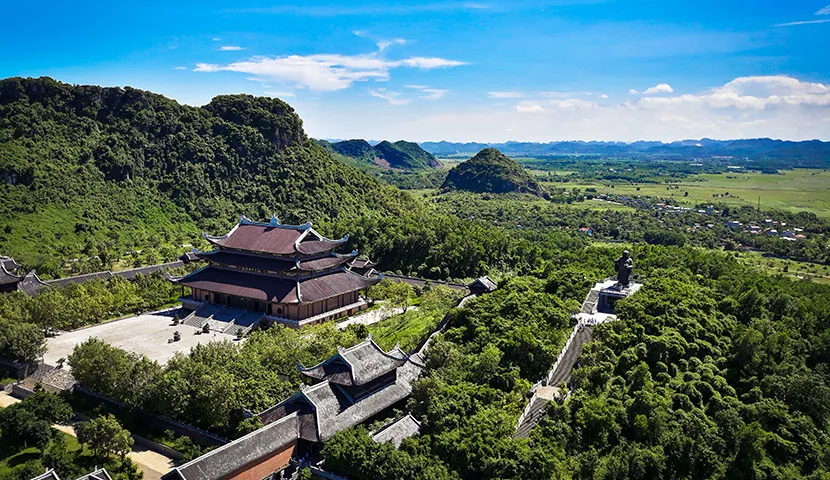 Up to the present time, Bai Dinh pagoda has achieved many records:
The largest gold-plated bronze Buddha statue in Asia: The 100-ton bronze statue in the Dharma Master Palace
Southeast Asia's largest bronze Maitreya Buddha: 100 tons outdoor statue
The largest bronze bell in Vietnam: weighs 36 tons in the Bell Tower.
The tallest Stupa in Asia: Bao Thap, Bai Dinh pagoda (Ninh Binh) has 13 floors, 100m high
The largest pagoda area in Vietnam: a total of 539 ha (only 27 ha old pagoda, 80 ha new pagoda)
The pagoda has the longest Arhat corridor in Asia: the Arhat corridor is nearly 3 km long.
The pagoda has the most Arhat statues in Vietnam: 500 Arhat statues are made of blue stone, about 2m high.
The pagoda has the largest pearl well in Vietnam.
The pagoda has the largest number of Buddha trees in Vietnam: 100 trees are extracted from the Indian Buddha tree
In the spring (from January to March), especially after the traditional New Year (usually February), the local people coming to the pagoda is very crowded (according to Vietnamese beliefs and customs).
There is no entrance fee but you need to pay 60,000 VND for the E car to move around the temple grounds.

2.4 Bich Dong pagoda
Nestled along the mountainside, interspersed with hundreds of years old trees, Bich Dong Pagoda has an ancient beauty that attracts many tourists.
This is a place that should not be missed when coming to Tam Coc. The pagoda consists of 3 main pagodas distributed in three levels along the mountain side: Ha pagoda - Trung pagoda - Thuong pagoda. After about 100 steps, you will reach Thuong Pagoda and enjoy the panoramic view of the region.
The pagoda is only about 2 km from Tam Coc wharf. Many visitors are interested in riding to this area after Tam Coc boat trip.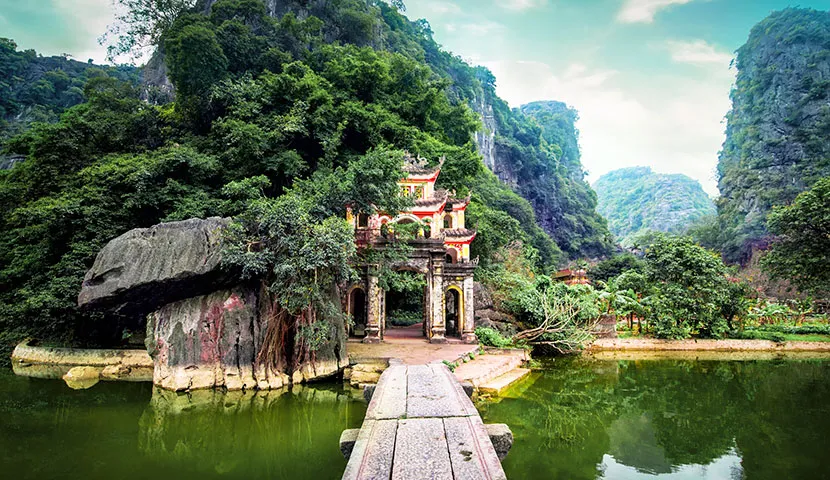 2.5 Thai Vi temple
Located 1.2 km from Tam Coc boat wharf, Thai Vi temple is a historical, cultural and tourist site in Tam Coc - Bich Dong. This is one of the oldest temples in Vietnam, built in the 13th century to worship Tran kings.
Every year, on March 14th of lunar calendar, Thai Vi temple festival is held with many activities such as procession, ceremony, human chess, wrestling, lion dance ... This is an opportunity to commemorate the merit of the King Tran.
Surrounded by rice fields and limestone mountains, the temple gives you a quiet and peaceful space. You can walk or cycle on the path through the fields to get here. The visit does not take too much of your time. If you come to Tam Coc, do not miss this point!
2.6 Thung La temple – Van Long
One day exploring Van Long, you cannot miss a visit to Thung La Temple. The temple is located in a quite deep valley, surrounded by five big mountains, in front of temple is a large lotus lake – it will be so beautiful in summer.
The temple is the place to worship the Queen mother Dinh king (Mrs. Dam Thi) and the mysterious Vuong Ba. The mysterious lady has a talent for fortune-telling. Dinh king often consulted her before each battle. This place is also used as a base of insurgents because there are many valuable medicinal plants around the area that can heal the wounds. Perhaps that is the original name of Thung La.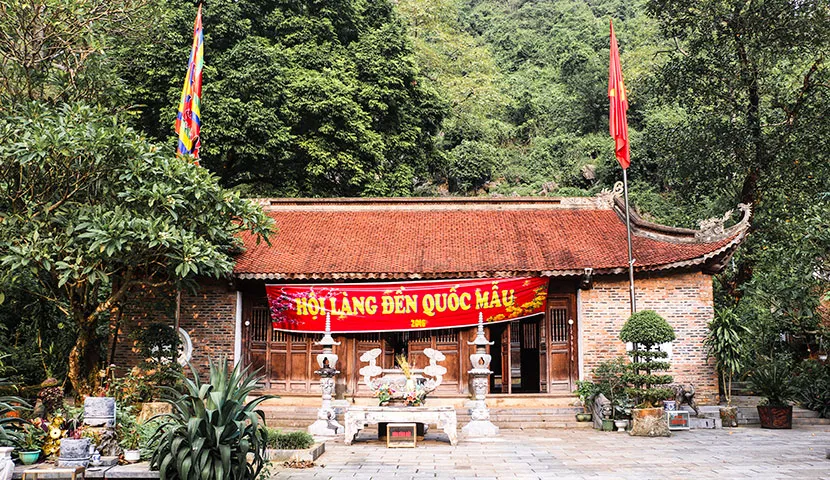 According to the legend, there was a queen who specialized in fortune-telling, often support for King Dinh Tien Hoang before join in the battle or doing important works. This place has many precious medicinal plants, so it is also the base for Dinh King's insurgent army to secretly withdraw and heal the injury after each battle. Perhaps for that reason, this place is called Thung La.
Visiting Thung La, you might have the luck of meeting someone from the temple - Mr. Tuong, talk to him and enjoy a performance of his unique drum in about 20 minutes.
---

3.1 Hang Mua – Dancing cave
Hang Mua or Dancing Cave is more and more popular destination in Ninh Binh because of its majesty and steep cliffs. This is a great check-in place for those who love to take pictures.
Climb nearly 500 steps, you will have an extremely beautiful panoramic view of the entire Tam Coc landscapes. The majestic mountains, beautiful nature will certainly not disappoint you.
Entrance fee: 100.000 VND/pax
Notes: Prepare light, comfortable clothing and walking shoes. If you want to have good photos, you should choose clothes with outstanding colors such as white, red, and yellow
Don't forget to bring a bottle of water as you will definitely need it
There is a WC at the foot of the mountain, you should go to there before climbing because this adventure is quite long.
>>>Where to stay in Hang Mua cave?
Normally, Visiting Hang Mua cave is just a small activity that you will do in Ninh Binh. But if you want, you can still overnight night in some homestays, lodges nearby.
Hang Mua Ecolodge or Nguyen Shack Ninh Binh are the 2 best accommodations to stay right near Dancing Cave. Overnight here, you can cycle and climb mountain in the early morning, enjoy the sunrise before visiting other places of Ninh Binh.
3.2 Cuc Phuong national park
Cuc Phuong National Forest is a tropical primitive forest, green all year round with extremely rich flora and fauna. Discovered in 1962, this is the oldest national park in Vietnam.
The right time to go to Cuc Phuong is from February to May: From February to April is the bird watching season. April - May is the butterfly season. Thousands of butterflies of all colors fluttering in the forest creating a splendid but poetic scene.
There are many recommended activities in Cuc Phuong: camping, trekking, cycling, bird watching, wildlife watching…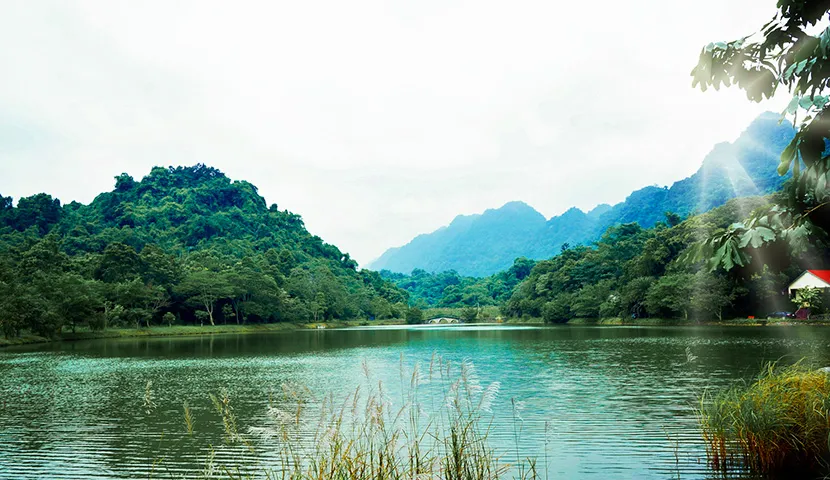 >>>What to see in Cuc Phuong national park?
In the forest, there are fancy plants, rare animals and mysterious caves that always excite visitors. The places that you should not miss are the thousand-year-old Parashorea, the Ancient cave, the Cuc Phuong primate rescue center. The total walking distance is about 5 km both in and out.
Entrance fee: 60.000 VND/pax – 10.000 VND for kid
Note: Some items to bring when entering the forest:
- Insect sprays and mosquito repellents
- Walking shoes
- 1 flashlight to use when entering a cave.
You see, Ninh Binh has so much things to explore. So do not miss this place in the list of unmissable sightseeing in your upcoming Vietnam trip.
>>> Some reference trips in Ninh Binh with best rate offer, please click here for more